TOUCH THE SKY: Celebrating Bishop Connolly High School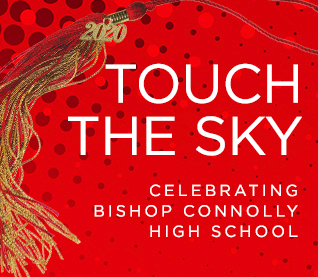 Description
Thank you for your donation to Bishop Connolly's TOUCH THE SKY CELEBRATION! As our 2020 graduates begin a new chapter and Bishop Connolly opens its doors to a new year, we extend our heartfelt thanks to the many behind-the-scenes supporters who are making it possible for our students to soar higher every day.
TO MAKE A DONATION in support of our celebration, please enter any dollar amount you wish. To complete your transaction, click on the orange button "Add to My Gift Basket" and follow the prompts.
Checks, made payable to Bishop Connolly High School, may be mailed to: Marketing & Communications, Bishop Connolly High School, 373 Elsbree Street, Fall River, MA 02720
Thank you for helping to make Connolly's "Touch the Sky" Celebration a huge success for our students!