Description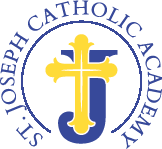 April 2020
Dear St. Joseph Catholic Academy Family,
This global pandemic has impacted us all, faculty, staff, students, alumni and supporters alike. While our greatest concern is the health, safety and welfare of the St. Joseph family, we are also concerned about the unknown impact this escalating crisis will have on our school and school families. Many of our families have already expressed apprehension about jobs, childcare, loved ones and their ability to meet their tuition obligations.
We realize that these are unprecedented times, and that this virus will indeed impact all of us, whether it be physically, financially, or emotionally.  However, imagine the stress of small business owners who have been required by state mandate to close, or of the hourly worker whose job has been deemed nonessential.  These are our families and their concerns are our concerns.
Our hope is that during these uncertain times, those of you who have the good fortune and ability to better navigate these choppy waters will seriously consider helping, even in a small way, those who have been hit hardest by this global crisis.  The St. Joseph family has always faced difficult times together, and now more than ever, we all need to support each other.
As Pope Francis states: "To form a family is to be a part of God's dream, to join him in building a world where no one will feel alone." Thank you for being a part of our family, for being a part of God's dream and for joining us to build a world where no one will feel alone. Please help us today to ensure that no matter how long this crisis lasts, every member of our school community is supported, can stay with us, and never feels alone.
We are forever grateful for your generosity. Please know that you and your loved ones are in our prayers today and always. Be safe, be well and be faithful.
With enormous gratitude,

Bob Freund
Venue
2401 69th St

Kenosha
WI

53143