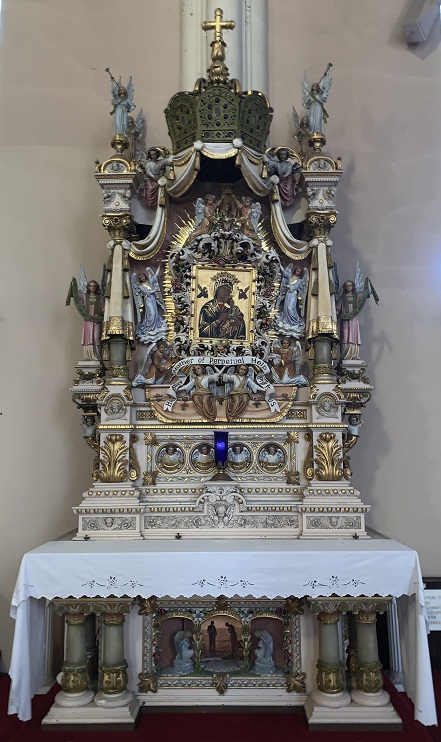 Did you know that a devotional area in St. Michael's Church has a special historical significance for our parishioners? It is the shrine to our Mother of Perpetual Help. The original icon of Mother of Perpetual Help, which is ancient, was restored to public veneration in 1865 by Pope Pius IX. Five authentic reproductions of the icon were sent from Rome, and one came to St. Michael's Church for our shrine. 
The icon was solemnly shown at St. Michael's for the first time when the shrine was dedicated on December 8, 1870. In 1871, the great Chicago fire, as it grew in intensity, threatened the Church. The Redemptorists decided to move the icon to safety. When the fire reached the parish, unfortunately, the church and shrine were destroyed. The Church and shrine were rebuilt by the parishioners in 1873 and the venerated icon was returned to its place of honor.
For decades, individuals have knelt at the feet of Our Mother of Perpetual Help in times of grief and in times of joy, both thanking her for the graces received and begging for her intercession. Thousands of brides had prayed before the icon during their wedding ceremonies. Tens of thousands of prayers have been whispered to her and still, others have been written and left behind, placing their faith in her loving hands. Hundreds of candles accompanied by tears, cover her altar, a visible sign of devotion. Throughout time, she has remained a visible presence in our Church.
The altar still stands today – but is in severe disrepair. The Shine is made entirely of wood which has become very brittle. This has made the icon unstable. The icon has been reattached to the shrine using airplane wire as a temporary measure until it can be reattached securely. The shrine needs quite a bit of work to restore the altar to its original design. Many of the angels and other ornamental pieces of the altar have fallen off.
Would you be willing to help us with a donation toward this project? $5, $10, or $20 will help us complete the raising of the funds to restore the altar. All donations, no matter how small or large will be added to Our Mother of Perpetual Spiritual Bouquet and will be remembered in a monthly Mass.